We're Getting Mutants in the MCU - The Loop
Play Sound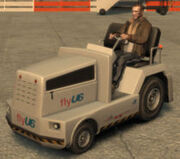 The Airtug is an airport tug featured in Grand Theft Auto IV.
Description
[
]
The Airtug, a low-power tug available only within the tarmacs of Francis International Airport (FIA), appears to be a replacement for the Baggage Handler featured in the GTA III Era, as well as the similarly designed Tug. Like the Baggage Handler, the Airtug's performance is ranked as one of the poorest in the game. Its weaker engine means that its speed is considerably slow, but makes up for with good acceleration and moderately good cornering due to its low speed and light weight; the Airtug may also seat up to two occupants. Unlike the Baggage Handler in Grand Theft Auto: San Andreas, however, it can no longer be used to tow the luggage carts or towbars in the airport. As usual, the Airtug, being property of the FIA, features FlyUS livery.
Despite the fact that it is one of the slowest, least-useful vehicles in the game, it is one of the more difficult vehicles to acquire - straying into the airport's runway area will earn the player a four star wanted level.
Trivia
[
]
The three default radio stations in the Airtug are

Integrity 2.0

,

WKTT Radio

and

PLR

.
See also
[
]
Navigation
[hide] v • d • e Vehicles in GTA IV Sports and Muscle Cars Banshee | Comet | Coquette | Dukes | Faction | Infernus | Ruiner | Sabre | Sabre GT | Stallion | Sultan RS | Super GT | Turismo | Vigero
Two-Door and Hatchbacks Blista Compact | Bucanneer | Feltzer | Fortune | Futo | Manana | Peyote | Sentinel | Uranus | Virgo | Voodoo
Four-Door Sedans and Saloons Admiral | Chavos | Cognoscenti | DF8-90 | Dilettante | Emperor | Esperanto | Feroci | Hakumai | Ingot | Intruder | Lokus | Marbelle | Merit | Oracle | Pinnacle | PMP 600 | Premier | Presidente | | Schafter | Stretch | Sultan | Vincent | Washington | Willard
SUVs, Pick-ups, and Vans Bobcat | Cavalcade | Cavalcade FXT | Contender | Habanero | Huntley Sport | Landstalker | Minivan | Moonbeam | Patriot | Perennial | Rancher | Rebla | Romero | Solair | Stratum
Commercial & Industrial Airtug | Benson | Biff | Boxville | Burrito | Flatbed | Forklift | Laundromat | Mr. Tasty | Mule | Packer | Phantom | Pony | Ripley | Securicar | Speedo | Steed | Yankee
Emergency Ambulance | Enforcer | FIB Buffalo | Fire Truck | NOOSE Cruiser | NOOSE Patriot | Police Cruiser | Police Patrol | Police Stockade | Predator
Public Service Bus | Cabby | Liberty City Subway | Roman's Taxi | Sky Car | Taxi | Trashmaster
Bikes Faggio | Freeway | Hellfury | NRG 900 | PCJ 600 | Sanchez | Zombie
Boats Dinghy | Jetmax | Marquis | Reefer | Squalo | Tropic | Tug Boat
Aircraft Annihilator | Helitours Maverick | Maverick | Police Maverick
Vehicles in GTA IV | Category:Vehicles in GTA IV | Vehicle Brands | Vehicle Types | Special Vehicles [show] v • d • e Vehicles Lists All Vehicles | Category | by brand | by vehicle type | Special Vehicles Vehicles in Chinatown Wars | GTA IV (The Lost and Damned, The Ballad of Gay Tony) | Vice City Stories | Liberty City Stories | Advance | GTA San Andreas | GTA Vice City | GTA III | GTA 2 | London 1961 | London 1969 | GTA 1 Categories Chinatown Wars | GTA IV (The Lost and Damned, The Ballad of Gay Tony) | Vice City Stories | Liberty City Stories | Advance | GTA San Andreas | GTA Vice City | GTA III | GTA 2 | London 1961 | London 1969 | GTA 1 Related Topics Vehicle Missions | Garages | Spray Shop (Mod Garages) | Cheats [show] v • d • e Grand Theft Auto IV