We're Getting Mutants in the MCU - The Loop
Play Sound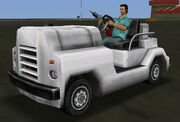 The Baggage Handler is a small airport tug featured in Grand Theft Auto: Vice City, Grand Theft Auto: San Andreas Grand Theft Auto: Vice City Stories and Grand Theft Auto: Chinatown Wars, used to transport luggage to and from aircraft. The vehicle is simply known in GTA San Andreas as the Baggage.
Description
[
]
Design
[
]
The Baggage Handler is designed as an open air, electrically power vehicle predominantly used to pull loads in airports. Due to its function, the vehicle barely offers any luxuries; the vehicle does features a small cargo compartment in the rear, which may occasionally contain cases, toolboxes or earmuffs. For all of its appearance, the vehicle comes in white, with the exception of GTA San Andreas (where is it only in light gray); the GTA Vice City Stories rendition additionally includes Baggage Handlers in light gray or dark gray alongside white ones.
In GTA San Andreas, it is possible to use the Baggage Handler to tow luggage carts and a staircase found in airports. The game considers these attachments as vehicles so they can be damaged, catch on fire, and explode. Security guards in GTA Vice City can also be seen driving Baggage Handlers as their "gang car".
Performance
[
]
The Baggage Handler's slow speed, weak construction, and poor handling make driving one of these on a heavily traveled, high-speed thoroughfare extremely treacherous. Furthermore, the Baggage Handler is highly susceptible to damage from weapons, to the point where close range shotgun blasts can physically move the vehicle.
While nothing much has changed in the GTA Chinatown Wars rendition of the Baggage Handler, it has slightly increased speed in the game.
Trivia
[
]
The Baggage Handler plays

K-JAH West

by default when entered in GTA San Andreas.
See also
[
]
Navigation
[hide] v • d • e Vehicles in GTA IV Sports and Muscle Cars Banshee | Comet | Coquette | Dukes | Faction | Infernus | Ruiner | Sabre | Sabre GT | Stallion | Sultan RS | Super GT | Turismo | Vigero
Two-Door and Hatchbacks Blista Compact | Bucanneer | Feltzer | Fortune | Futo | Manana | Peyote | Sentinel | Uranus | Virgo | Voodoo
Four-Door Sedans and Saloons Admiral | Chavos | Cognoscenti | DF8-90 | Dilettante | Emperor | Esperanto | Feroci | Hakumai | Ingot | Intruder | Lokus | Marbelle | Merit | Oracle | Pinnacle | PMP 600 | Premier | Presidente | | Schafter | Stretch | Sultan | Vincent | Washington | Willard
SUVs, Pick-ups, and Vans Bobcat | Cavalcade | Cavalcade FXT | Contender | Habanero | Huntley Sport | Landstalker | Minivan | Moonbeam | Patriot | Perennial | Rancher | Rebla | Romero | Solair | Stratum
Commercial & Industrial Airtug | Benson | Biff | Boxville | Burrito | Flatbed | Forklift | Laundromat | Mr. Tasty | Mule | Packer | Phantom | Pony | Ripley | Securicar | Speedo | Steed | Yankee
Emergency Ambulance | Enforcer | FIB Buffalo | Fire Truck | NOOSE Cruiser | NOOSE Patriot | Police Cruiser | Police Patrol | Police Stockade | Predator
Public Service Bus | Cabby | Liberty City Subway | Roman's Taxi | Sky Car | Taxi | Trashmaster
Bikes Faggio | Freeway | Hellfury | NRG 900 | PCJ 600 | Sanchez | Zombie
Boats Dinghy | Jetmax | Marquis | Reefer | Squalo | Tropic | Tug Boat
Aircraft Annihilator | Helitours Maverick | Maverick | Police Maverick
Vehicles in GTA IV | Category:Vehicles in GTA IV | Vehicle Brands | Vehicle Types | Special Vehicles [show] v • d • e Vehicles Lists All Vehicles | Category | by brand | by vehicle type | Special Vehicles Vehicles in Chinatown Wars | GTA IV (The Lost and Damned, The Ballad of Gay Tony) | Vice City Stories | Liberty City Stories | Advance | GTA San Andreas | GTA Vice City | GTA III | GTA 2 | London 1961 | London 1969 | GTA 1 Categories Chinatown Wars | GTA IV (The Lost and Damned, The Ballad of Gay Tony) | Vice City Stories | Liberty City Stories | Advance | GTA San Andreas | GTA Vice City | GTA III | GTA 2 | London 1961 | London 1969 | GTA 1 Related Topics Vehicle Missions | Garages | Spray Shop (Mod Garages) | Cheats [show] v • d • e Grand Theft Auto IV