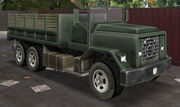 The Barracks OL, also known as the Barracks in Grand Theft Auto: San Andreas, is a military truck. The vehicle has appeared in the following games:
Grand Theft Auto III

Grand Theft Auto: Vice City

Grand Theft Auto: San Andreas

Grand Theft Auto Advance

Grand Theft Auto: Liberty City Stories

Grand Theft Auto: Vice City Stories
The truck is absent in Grand Theft Auto IV as the military has been removed from the game.
Overview
[
]
Design
[
]
Appearing on the streets only when the player achieves a 6-star wanted level, the Barracks OL is a military truck based on the M939 "5 ton" truck. When first introduced in GTA III, it was visually very similar to the the Flatbed truck, differing only in its body colors and its modified bed design with additional fencing. Unlike the Flatbed, the Barracks OL underwent fewer modifications after GTA III, retaining its rugged, military-like design.
The Barracks OL comes with three types of bed configurations: uncovered, uncovered with framing, and fully covered; GTA San Andreas' Barracks, however, features only two bed configurations: covered with tarpaulin, or covered with camouflage netting (revealing boxes on the bed). The GTA San Andreas and GTA Advance renditions feature closed cabs, while all other renditions feature open cabs. Despite the Barracks' huge size, it is only capable of carrying the driver and one passenger.
From GTA Vice City onwards, vigilante missions can be activated from the Barracks. In GTA San Andreas, the Barracks even features a siren without strobe lights, which, like other sirens, will force traffic in front of the truck to move out of the way.
Performance
[
]
Although it is one of the heaviest vehicles in the games, it is faster than the much lighter Flatbed; due to its length and its two rear axles, however, it suffers from understeer at higher speeds. Its ramming power is awesome; it can easily penetrate a SWAT roadblock. The Barracks OL has all-wheel drive, but, because of its size and weight, it can easily get stuck in off-road terrain. Despite its size, the Barracks will explode if it collides with a Rhino tank, just as other vehicles do.
Locations
[
]
GTA III
Phil's Army Surplus

, in north

Rockford

,

Staunton Island
GTA Vice City
GTA San Andreas
Area 69,

Bone County

Easter Basin Naval Station

,

San Fierro
GTA Liberty City Stories
Construction Site, in

Hepburn Heights

,

Portland Island
GTA Vice City Stories
See also
[
]
Pacifier

, GTA2 equivalent.
Navigation
[hide] v • d • e Vehicles in GTA IV Sports and Muscle Cars Banshee | Comet | Coquette | Dukes | Faction | Infernus | Ruiner | Sabre | Sabre GT | Stallion | Sultan RS | Super GT | Turismo | Vigero
Two-Door and Hatchbacks Blista Compact | Bucanneer | Feltzer | Fortune | Futo | Manana | Peyote | Sentinel | Uranus | Virgo | Voodoo
Four-Door Sedans and Saloons Admiral | Chavos | Cognoscenti | DF8-90 | Dilettante | Emperor | Esperanto | Feroci | Hakumai | Ingot | Intruder | Lokus | Marbelle | Merit | Oracle | Pinnacle | PMP 600 | Premier | Presidente | | Schafter | Stretch | Sultan | Vincent | Washington | Willard
SUVs, Pick-ups, and Vans Bobcat | Cavalcade | Cavalcade FXT | Contender | Habanero | Huntley Sport | Landstalker | Minivan | Moonbeam | Patriot | Perennial | Rancher | Rebla | Romero | Solair | Stratum
Commercial & Industrial Airtug | Benson | Biff | Boxville | Burrito | Flatbed | Forklift | Laundromat | Mr. Tasty | Mule | Packer | Phantom | Pony | Ripley | Securicar | Speedo | Steed | Yankee
Emergency Ambulance | Enforcer | FIB Buffalo | Fire Truck | NOOSE Cruiser | NOOSE Patriot | Police Cruiser | Police Patrol | Police Stockade | Predator
Public Service Bus | Cabby | Liberty City Subway | Roman's Taxi | Sky Car | Taxi | Trashmaster
Bikes Faggio | Freeway | Hellfury | NRG 900 | PCJ 600 | Sanchez | Zombie
Boats Dinghy | Jetmax | Marquis | Reefer | Squalo | Tropic | Tug Boat
Aircraft Annihilator | Helitours Maverick | Maverick | Police Maverick
Vehicles in GTA IV | Category:Vehicles in GTA IV | Vehicle Brands | Vehicle Types | Special Vehicles [show] v • d • e Vehicles Lists All Vehicles | Category | by brand | by vehicle type | Special Vehicles Vehicles in Chinatown Wars | GTA IV (The Lost and Damned, The Ballad of Gay Tony) | Vice City Stories | Liberty City Stories | Advance | GTA San Andreas | GTA Vice City | GTA III | GTA 2 | London 1961 | London 1969 | GTA 1 Categories Chinatown Wars | GTA IV (The Lost and Damned, The Ballad of Gay Tony) | Vice City Stories | Liberty City Stories | Advance | GTA San Andreas | GTA Vice City | GTA III | GTA 2 | London 1961 | London 1969 | GTA 1 Related Topics Vehicle Missions | Garages | Spray Shop (Mod Garages) | Cheats [show] v • d • e Grand Theft Auto IV
de:Barracks OL es:Barracks OL