The
Regina
is a station wagon appearing in
Grand Theft Auto: Vice City
,
Grand Theft Auto: San Andreas
,
Grand Theft Auto: Vice City Stories
and in the
Grand Theft Auto IV
expansion pack,
The Lost and Damned
.
Design
The Regina in the
GTA III Era
resembles a
1984-1988 Chevrolet Caprice Estate Wagon
(the placement of the wood panels and the chrome on the bottom of the sides) with a mid-80's
Pontiac Parisienne
-like grille and the shape of the hood and how the front is pointed look similar to many 70's Cadillacs. Unlike all those cars, the Regina is front wheel drive.
In The Lost and Damned, the Regina is designed as a 1960s station wagon with aftermarket wheels and low ground clearance. The car's sides resemble those of 1960s GM B platform station wagons, for example the
1966-1970 Chevrolet Impala
, or
1965-1969 Pontiac Bonneville
. The taillight and rear chrome design resemble that of the 1965 Pontiacs especially the
Bonneville station wagon
; the front loosely resembles most 1961 Pontiac models.
Performance
Acceleration is modest, and speed is severely lacking -- with the Regina's front-wheel drive powertrain, the underpowered V8 struggles to move this behemoth. Handling is sluggish, the car suffers from obvious understeer, and the brakes do a barely acceptable job of slowing the enormous chassis. The Regina is not especially sturdy, nor capable of withstanding heavy damage, and is a generally undesirable vehicle.
Modifications (GTA San Andreas)
In
TransFender
:
*Colors (two areas)
*Nitro (three varieties)
*Wheels (ten varieties)
*Bass Boost
*Hydraulics
LocationsGTA Vice City Stories
At
Mary-Jo Cassidy
's Apartment.
'
The Lost and Damned'
* During "
Heavy Toll
", its only appearance in the game. There is only one way to obtain this vehicle and that is to drive one of the Regina's toward the Bohan Safe House, but do not go too far otherwise you'll lose the Slamvan, so position the Regina wisely to get the Slamvan and push it toward the Bohan Safe House. With the Slamvan this will be the difficult part because you will have to guide both the Slamvan and Regina through turns and possible traffic, but it should be easy if you know how. Then, as soon as you get it to the Bohan Safe House, get out of the Slamvan, neatly position the Regina into the Parking area as you so desire, and finally take the Slamvan and Complete the mission. Although the autosave mode does come up, take no chances and save the game at your Lost Clubhouse immediately just to be safe. Now you will have your very own Regina waiting for you to drive it.
Trivia
*The Regina plays the following radio stations by default when entered:
**
K-JAH
in GTA San Andreas.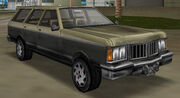 Community content is available under
CC-BY-SA
unless otherwise noted.