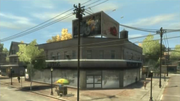 Westdyke Autos
is a motorbike dealership located on
Lemhi St
& Sacramento Ave. in
Westdyke
,
Alderney
. Inside, there are numerous
NRG 900
variants; the RR and the F. The player can enter the building during the day and steal a motorbike. Although the dealership is closed at night, the player can still enter it by breaking the windows. Stealing any of the bikes will earn the player a 1-star wanted level. It is one of the four dealerships in
Grand Theft Auto IV
, the others being
Grotti
in
Algonquin
,
Liberty City
, along with
Auto Eroticar
and
Big Paulie Budget Cars
in
Alderney
. Strangely, if the player drives a vehicle into the shop, all of the bikes inside disappear.